Joined

Jun 21, 2020
Posts

82
Reaction score

125
Location
Hi! So I'm back. Sorry.
Purchase Info:
Month: June 2020
Miles: 48,610
Price: $45,241.76 + Taxes/Fees
Location: Parks Ford/Lincoln of Gainesville (Don't recommend, to be honest)
Condition: Purchase day me would've said A+, today me says B-.
Current Mileage: 119,805.3
This stands to be a continuation of my previous post for anyone considering a high mileage Raptor. For all my insights, problems, highs, and lows up to about 89k miles, go see this post:
18 Months of Raptor Ownership, summized.
Honestly, this post won't be all that long. I've only had 1 major issued fixed, 1 "incident", and 1 major issued about to be fixed (Under warranty because I absolutely bought an extended, extended warranty).
Let's kick it off with the problem / maintenance which occured between my last post and now:
1. 15 April 22 / 92,828 miles: Coolant Temperature Spiking on highway after extended use. For a full article see this one
Coolant Issue
. The TL;DR from that article: After about an hour or so of use the coolant temperature would spike, sometimes above 240°F, when coming OFF throttle on the higway (Speeds >45MPH). Turns out it was a leak from the Water Pump and Thermostat Housing and there was debris in the coolant system (most likely the gasket which corroded away). Bozard Ford (which I couldn't recommend more, they're amazing) replaced / handled all of the relevant issues, did the 100k Service, provided a rental, and completed everything in 4 days. Covered under warranty. Seriously, if you're in NE Florida and you're not going to Bozard, I'd suggest it. $0.
2. 26 Jul 22 / ~96,000 miles: A Domino's Delivery driver yeeted it out of a parking spot in my complex and hit the front passenger side of the vehicle as I was driving by. The Raptor suffered a broken front bumper, a broken passenger head light, broken passenger side front quarter panel which prevented the passenger door from opening, and a completely blown front passenger side tire with corresponding damaged wheel. No frame damage. The Domino's Driver's Toyota Corolla did NOT fair as well. Completely totaled. Had the truck repaired at Orange Park Ford Body Shop, again (same location as my last "incident"), and it was completely the other driver's fault so I paid nothing. $0.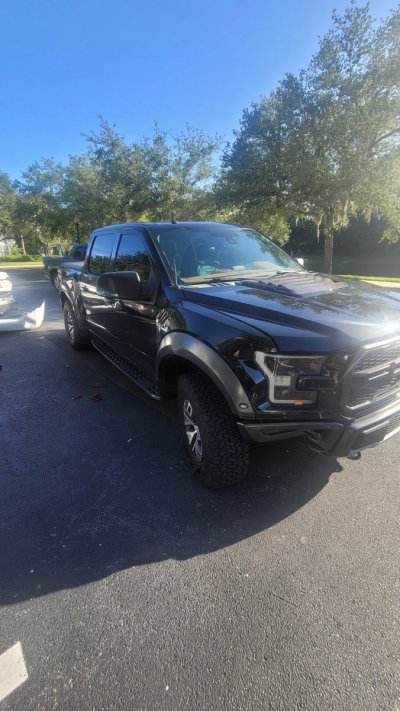 3. Unlike my last post I won't list out EVERY oil change. Oil has been replaced every 3-5k miles with Valv-O-Line Full Synthetic Oil, since my 100K Ford Service, except in 1 instance where a Valv-O-Line Instant Oil Change location wasn't available. The only exception was done at an American Lube Fast and I don't recommend it-- Valv-O-Line Instant Oil Change, though, I can't recommend more. Every location I've been to across the US has been professional, quick, and efficient. ~$100 each time.
4. Had the transfer case fluid replaced during my most recent trip to Valv-O-Line (occurred at approximately ~116,000 miles)-- it added $40 on the total cost. According to the tech "That fluid was BLACK!" They then proceeded to tell me there was a leak from my transfer case and five minutes later told me there was no leak it was just excess fluid from the change. Solid 5 minutes of panic.
Das it. It's been a reliable vehicle and I've loved every moment with it. I will say, during the elongated body repair from the incident, I was able to sweet talk the Enterprise Rep into giving me an Alfa Romeo Guilia as my loaner and I honestly considered finding a used Quadrifoglio. It's an Italian car so half of the stuff decided it just didn't want to work sometimes, for absolutely no reason at all, but I agree with Jeremy Clarkson, there's just something about an Alfa.
I recently did some long distance towing with the truck so I'll comment on that experience. I had a U-Haul with a motorcycle (~430lbs) and some bags in it, as well as a fully loaded bed and cab. Truck handled amazing. You could definitely notice the truck was fully laden down and towing a U-Haul but it wasn't a massive loss in performance. Round trip it was about 39 hours of driving with altitudes peaking at 8,000' at points. I wouldn't have wanted any other truck (Take with a grain of salt, my truck experience is....limited...).
As for the issue being fixed, I'll give everyone 30 seconds to guess.....................CAM PHASERS! Again. Lol. It will be covered under warranty so I'm not all too concerned..
To anyone still on the fence about getting a Gen 2 Raptor with "high" miles, let this serve as an honest review of 1 person's experience.
Oh, this last photo was taken after a couple hours of off-roading, doing 45-50MPH on trails which should've been taken at about 20MPH. Never smiled so much driving before.