Joined

Aug 3, 2015
Posts

13
Reaction score

11
Hello all !!!
A raptor has been on my radar for the last 10 years or so, but just never made it around to getting one. Recently I was wanting a Gen 2 or possible Gen 3. Obv I'd love a Raptor R but I cant justify paying over sticker for a pickup truck. I often buy vehicles without ever driving one before so I finally test drove a 2018 and hated it. IDK what it is but the V6 TT just feels weird to me in a P/U. I'm used to V8's and IDC how many mods I would have done, the V6 just didn't do it for me. I also wasn't liking the cam phaser issue so I was leaning towards a late 2020, which then had me looking towards getting a 2021 to get the refresh. But then I wanted the interior refresh so I was leaning towards a 2022 and then I was annoyed I'd have to spend 75k+ and still NOT have a V8. SO, I decided to find the cleanest and newest Gen 1 in the NE USA.
So I found a super nice guy selling a 2014, 2 owner truck, SUPER CLEAN. Like, meticulous. 50k miles. Corsa exhaust. Sync 3. Tint. Ceramic'd. and LED lights all around. The seller and I talked for 2+ hours and we'll prob be distant friends going fwd. He also had a silver 2022 but he kissed the truck before it left, lol. Guy loves thing thing. I love the truck as well but definitely need to do some mods to it. Sorry for long post!! I'm doing lots of research but if anyone wants to offer their advice or experience, I'm more than appreciative to hear it. So here are my plans:
- Power wise, I'd love a whipple but not trying to spend that much just on power so I'm thinking about adding an intake and a tune. Not sure which are best yet. Also curious if people do flex fuel tunes on these trucks? On my R8, I can put anything from 93 oct to E98 or anything in between. If that's feasible and, I'd love to do that.
- Leaning towards 20x12 -12 wheels with General grabbers in 37x13.5xR20's. Need to only level the front I believe. I heard springs are better than perches. I'm not going to be off-roading more than the beach.
- Prob going to upgrade the HID's with retros from
https://easternshoreretros.com/
because the oem hid's are not bright enough at night. Also need to figure out the best way to add LED's in the bed.
- Looking to get a hard bed cover. I've heard mixed reviews of the bak-flip, I'm not too concerned about blocking the rear window a little when its folded but I'd prefer not to lose much bed space when its retracted. Also need a strut system for the tailgate.
Pics below!!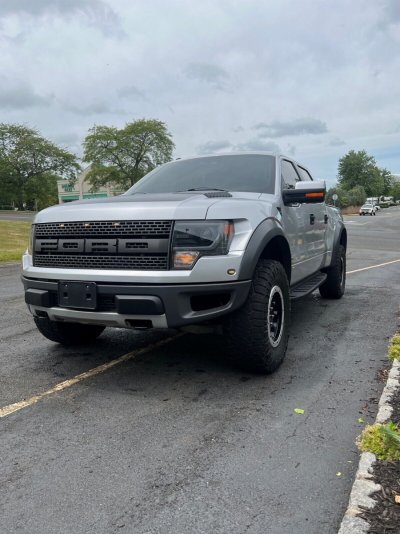 Also have a SC'd V8 RR sport for the wife as a daily, TT R8 that makes 1200whp+, and 2022 GSXR 1000R. And this 6mt 340i mSport but 99% selling that soon.