I finally got around to doing lights on the Gen3. I did the linkable pods, triple fogs, camera relocate kit and custom relay box for upfitter switches. I'll link to everything I used for this at the end.
For the triple fogs
, I did all Squadron Pros with the following setup:
Innermost lights on each side are Driving/Combo and these are wired into the stock fog harness and are basically my driving lights in addition to my headlights. Even though these are not SAE, I run them all the time when my headlights are on and they do a good job of lighting up the road ahead of me. I have them slightly biased down and to the right so I am not blinding anyone. So far, no one has flashed me after a couple months of running these. Also, I did not use a relay on them as the stock fog circuit seems to be handling them fine without blowing the fuse.
Middle lights on each side are Spot and aimed straight ahead and are pretty much for trail use. I don't use these on paved roads. I wired these to the Aux1 switch and again no relay needed as the Aux1 is rated for 15A (I think) and these don't pull that much.
Outer lights on each side are Driving/Combo and pointed outward and are for lighting up the sides of trails only. These are set to Aux switch 2 which goes through my custom relay box.
For the BD Linkable Bumper Light Kit
, I ended up switching out pods 2 and 5 with XL80 pods as the linkable kit with just XL Sports did not look so bright just in the alley behind my house on my initial test. It did mean drilling and tapping some new holes in the XL80s as their mounting holes are different than the XL Sports. The brackets and links on this kit are super solid and BD did a great job on them. The only thing besides swapping out those lights was I added a strip of PPF on the trim right behind where the pods go as the harness from BD was going to rub on the trim pretty bad. I also rotated and adjusted the connectors and then reziptied them so they would not make as much contact with that trim. This is wired to my Aux3 switch and goes through my custom relay box. I think I may have swapped out the relay on this from 40A to 60A because of the XL80s.
For my upfitter switch relay box
, I used a generic waterproof box and then mounted it on top of the Ford fuse box (it is literally the only space available in the engine bay for this). I was super stoked, when I first heard about the upfitter switches on this truck. I thought this is going to be great—I'm going open the fuse box and there's going to be 6 perfectly lined up relays and connections for each switch. But I was super bummed, when I saw that Ford just left 6 pigtails in the side of the engine bay. The last thing I want is a bunch of relays screwed to the walls and wires running everywhere in the engine compartment. So I got this box and wired it up to a 200A breaker and added a Deutsch connector so it can easily come out in the future if some major engine work needs to be done. I made a small mount for the relay box so that it sits on top of the Ford fuse box and is held in with some thumb screws. It can easily come out if you need to get to the Ford fuses even if you are in the middle of nowhere with no tools (thanks to the long wire harness I put on it).
Camera relocate kit
—at first, I thought having my front camera partially blocked would not bother me. But having that down view is actually so important when you are in tight spots on trails. This kit totally eliminated any obstruction and now I have full view again and my 360 view is back to normal.
Stuff I used:
+
Baja Designs Linkable Bumper Light Kit
+
Baja Designs XL80 Lights
+
Baja Designs Triple Fog Light Kit w/KR Off-Road Brackets
+
Nine-Volt Camera Relocate Kit
+
Relay Box
+
Deutsch Connectors
+
200A Breaker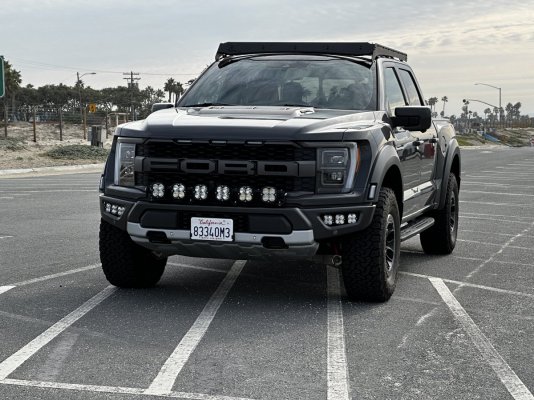 Note swapped in XL80s: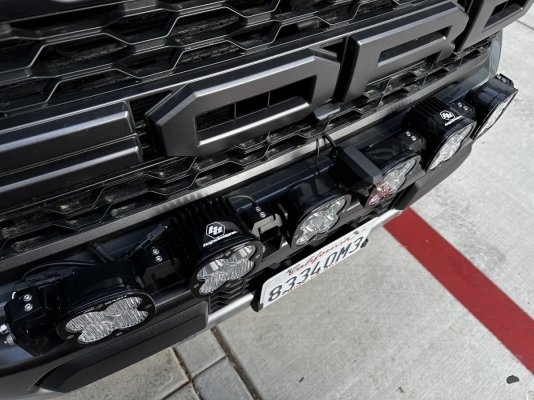 XL80 modification: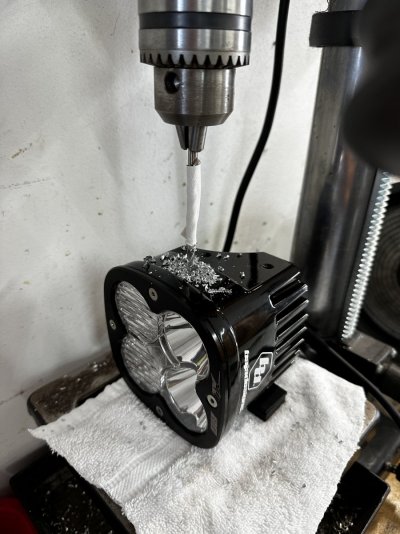 BD mount and my PPF trim protection. If I had clear, I would have done that. But the light pods block this from being seen.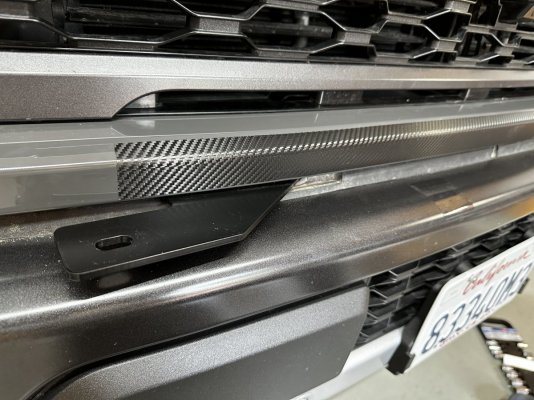 Relocated camera: