Joined

Feb 13, 2021
Posts

12
Reaction score

6
Location
Any help would be very much appreciated! The dealer told me they "black-flagged" my truck in the Ford system so I'm on my own.
Year: 2020 (screw)
Mileage: 43K
Modifications related to the engine:
- Intercooler
- AFE intake
- Cobb tuner (uninstalled after 1st incident)
- Turbosmart BOV (after 1st incident)
Tire Size: 37x12.5
CODES:
P00C6 - Fuel rail pressure too low - engine cranking (bank 1)
P0304 - Cylinder 4 misfire detected
P025A - Fuel Pump Module A Control Circuit / Open
P05A1 - no description
U0109 - Lost communication with Fuel Pump Control Module A
Also, noted low fuel pressure - low side, but can't find the code it generated.
I first experienced an issue while in Mexico in Oct. 2022. I was on a thick sugar sandy road, mid-high boost pressure, 100+F outside. All gauges were reading OK. Suddenly, CEL and powertrain malfunction light appeared. The truck lost power as the dashboard was lighting up and as I came to a stop, the engine seemed to misfire and promptly shut off. I attempted to crank engine twice and the truck wouldn't start. I plugged in Forscan and pulled a list of DTCs, saved them, and cleared them to try to get it fired back up to move to a safe place, to no avail. I figured I'd check the engine oil and waited about 20 minutes to attempt starting again; engine oil was a little low so I topped it off- burned about a quart and a half in 1000 miles. After waiting those 20 minutes, the engine fired up, I cleared the codes once again and didn't have any further issues on my way off the road. Over the following week, I kept a close eye on the engine and took it easy.
After the trip, I sent the truck to a reputable shop in TX for diagnosis but they could not replicate the issue. In the process, they replaced the factory BOV as we were also looking at the turbos and oil consumption issue. Factory BOV was replaced with a turbosmart and then I shipped the truck home.
I then took the truck to a Ford dealer to replace an o2 sensor and I offered to pay for diagnosis as they were clear about not covering anything related to the engine under warranty, citing the intercooler and intake. They called me and told me to come pickup the truck saying that the head service manager told the mechanic to stop work immediately. When I went to meet with the service advisor and tech, I asked if the service manager understood that I offered to pay for diagnosis and repairs. They said there was definitely an electrical issue and pointed to the lighting wiring harness connected to the upfitter switch wires in the engine compartment and told me any connections made aftermarket to the factory wiring harness would prompt issues with the PCM. I showed them the Ford owner's manual showing the purpose of the upfitter switches and wiring and no joke, they told me that they should not be used and repeated why. Incidentally, they cut open the PCM wiring harness in the passenger steer tire wheel well and cut about 10 wires with a razor knife, and refused to repair it (I had to splice the wires back together and all codes disappeared). I'll quit my bitching.
Since then, I replaced the fuel pump driver module but the issue has persisted. I don't drive the truck frequently but the issue seems to persist. If the truck is running for 30-60 minutes, it will shut off at idle. If I hop on the road to head to my farm (45 min) and cruise at 80-100, the problem is guaranteed to occur.
The weirdest part is how the truck runs perfectly fine around town until it runs for an extended period of time or runs at highway speeds for an extended period of time.
Screenshots from the Forscan oscillator tool showing fuel pressure-related metrics.
BEFORE FAULT (note FLP is in Kpa below = 69.4PSI - engine on and about to fault)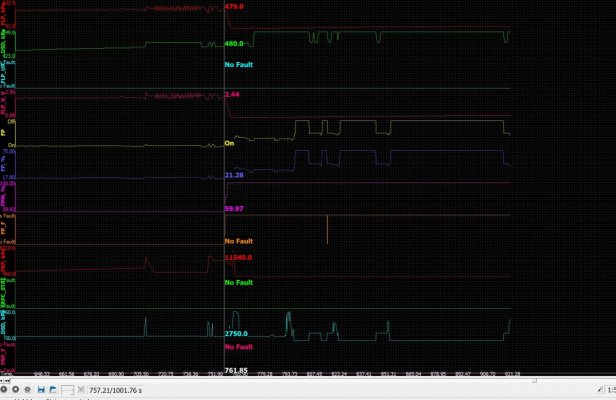 IMMEDIATELY AFTER FAULT: Ignition still on 99Kpa = 14.35PSI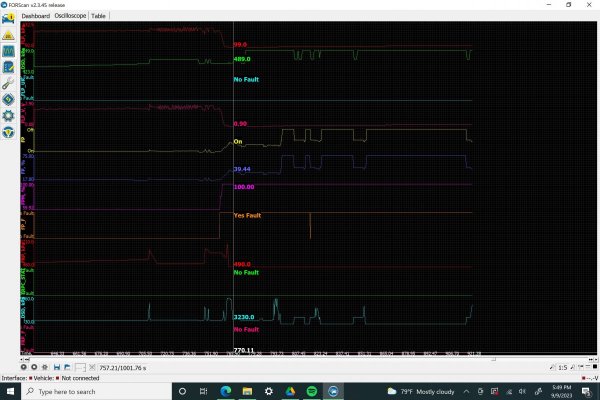 Video as I try to restart after engine shuts off:
View attachment IMG_2270.MOV
Last edited: