Supporting Vendor
Supporting Vendor
Joined

Sep 29, 2017
Posts

591
Reaction score

96
Location
Got Exhaust proudly offers JLT performance products. JLT performance products are not only high quality and high performing but are also made in the USA!

JLT offers many products for your Raptor such as Catch cans, intakes, mudflaps and more!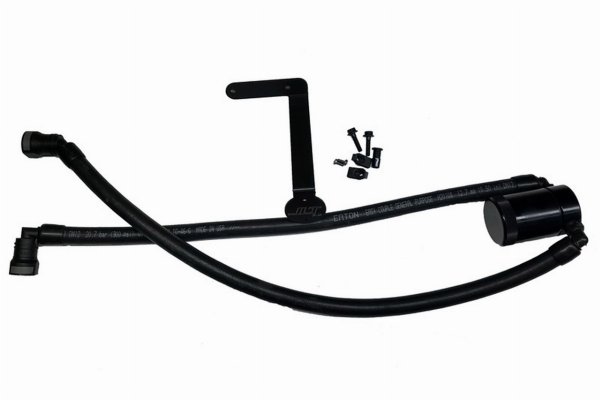 JLT 3.0 Oil Separator
3oz Capacity
Solid billet construction.
OEM Style quick connect PCV fittings
Multi stage filter system designed to collect the finest of vapors and drop them into the easily removable bottom while allowing clean air to pass through to the intake.
EASY INSTALL
Easy Plug & Play installation (see Instructions tab to download).
How does it work?
During the process of venting crankcase pressure back through your intake track, large amounts of oil, in the form of vapors can gather/accumulate in your intake tube, intake manifold runners and even dilute your gas, lowering its octane level. This happens in all engines and is even worse with forced inducted vehicles (supercharged and turbocharged) as crankcase pressures are increased. To combat this, we have developed an oil separator of our own design. Milled from solid billet aluminum this is a rock solid piece. It has a knurled tank base for easy removal to drain the spent oil and an O-ring seal to prevent any leaks.
Filtering consists of a fine mesh stainless steel screen that traps fine oil vapors and releases them once heavy enough to fall. They then pass through a 1/2" thick 1/16th" aluminum honeycomb filter where they grow even larger and then fall into the bottom. By the time the oil gets through the filter it's too heavy to be passed on into the intake. The tank holds 3 oz of fluid, while that may not sound like a lot, you shouldn't see that much oil in your PCV system. Drain it every 2000-3000 miles and you will never come close to filling it.
WHY JLT?
Our kits are easy install, service and flat out work! Many kits use OEM hoses or come complete with all hoses, custom brackets and hardware for an OEM look. Retain stock hose if you ever return to stock.
Not available to customers in California as this is not CARB exempt, it is coming SOON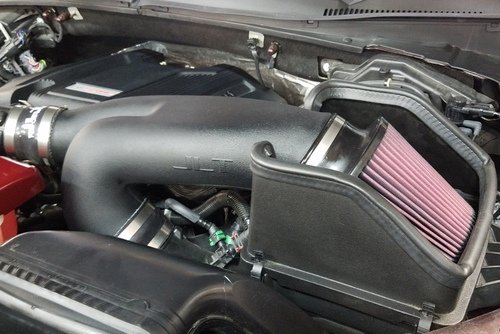 NEW! JLT PERFORMANCE COLD AIR INTAKE SYSTEM FOR 2018-19 FORD F150 3.5L AND 2.7L ECOBOOST, INCLUDING RAPTOR!
MORE POWER, GREAT SOUND AND LOOKS AWESOME! NO TUNE REQUIRED!
JLT's 2018-19 EcoBoost Cold Air Intake is fully computer designed to optimize space for best fit and finish. Constructed from Roto-molded plastic to keep the inlet air temps cool, no hot metal tubing here!
HEAT SHIELD
Fully Roto-molded heat shield the uses the stock lower air box and fresh air duct to keep inlet air temps as cool as possible.
AIR FILTER
We use only the best air filters made by S&B to our specifications. We love S&B's tapered flange design and Powerstack filtered ends. With a huge 5" opening on the tube we needed a huge filter. The result is a monster 5"x7" filter with built in bellmouth for more smooth airflow.
EASY INSTALLATION
The design, our easy to follow instructions and online video helps make this simple to install in about 30 minutes or less. (see Video / Installation Tabs)
KIT INCLUDES:
• JLT Black Textured Intake Tube
• 5x7 S&B Powerstack Air Filter
• Heat Shield
• HD Clamps, silicone reducers & all needed hardware
AIR FILTER OPTIONS - OIL OR DRY
Should I choose a Dry Disposable or Cotton Oiled Filter?
Since you are not sacrificing performance with either choice, the decision comes down to would you rather throw away the filter or clean it.
Dry:
Comparable airflow to oiled cotton filters with the same great protection.
Last for up to 30,000 miles of highway driving. Extend the life of the filter using compressed air.
Oil:
Oiled filters can last forever as long as you properly clean and re-oil it.
Oil filters are available in red or blue and Dry filters are white.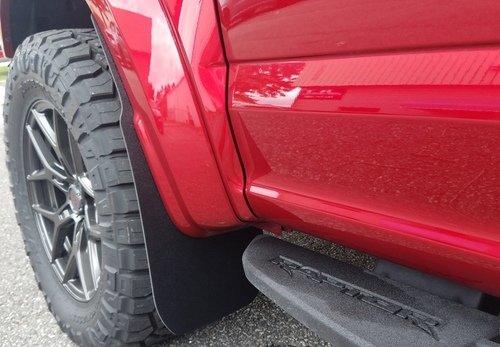 JLT MUD FLAPS/SPLASH GUARDS FOR 2017-19 Ford Raptor. Your mudder will be proud!
Made from 1/8" thick ABS plastic
Mounts using existing holes NO DRILLING
Precision cut on a water jet
Designed to match the line of the fender flares
Designed in house on our personal 2018 Raptor we followed the lines of the fender flares for an OEM look.
Includes 2 front and 2 rear splash guards and any needed hardware
Contact us for any JLT products for more info and pricing.