Supporting Vendor
Supporting Vendor
Joined

Nov 19, 2018
Posts

229
Reaction score

502
Location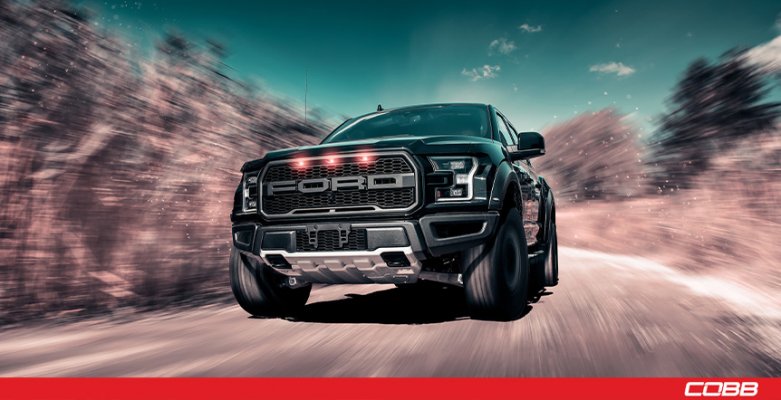 Hey everyone! We released some updates to our Gen2 Raptor OTS maps yesterday and I wanted to share the details of that with y'all.
With combined hundreds of thousands of miles now on our shop trucks, employee trucks, and analyzing customer data logs we have observed room for improvement in our Gen2 Raptor Off The Shelf (OTS) Map assortment. There are two main components to this update for supported Ford F-150s (3.5L HO) and Gen2 Raptors; v200 updates for existing OTS files and all new Performance Tow maps.
Updated calibrations for ALL existing OTS​
In addition to the new Performance Tow maps, our Ford team has also made extensive effort to further improve existing performance (Stage 1 and Stage 2) Off The Shelf maps. A smoother and more refined boost curve provides more linear power delivery at wide open throttle. Compensations have been further refined to safely maintain power and torque gains in adverse conditions including high ambient air temperatures, high charge air temperatures, and low barometric pressures.
Stage1 87 OCT or 91 RON v200.ptm
Stage1 91 OCT or 95 RON v200.ptm
Stage1 93 OCT or 98 RON v200.ptm
Stage2 87 OCT or 91 RON v200.ptm
Stage2 91 OCT or 95 RON v200.ptm
Stage2 93 OCT or 98 RON v200.ptm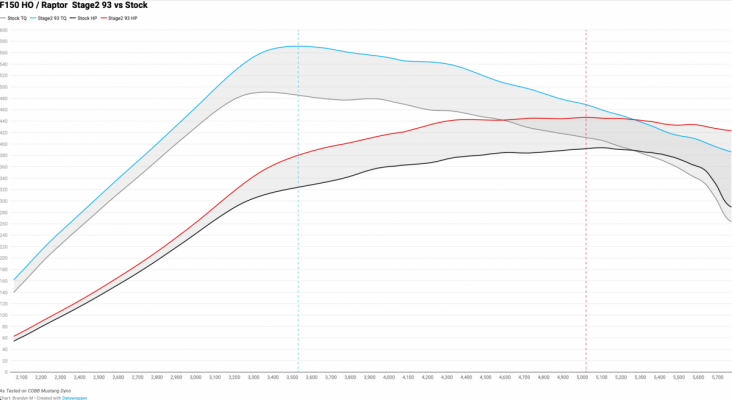 CLICK HERE for all dyno charts and Map Notes
---
Performance Tow Maps (91 and 93 octane variants)​
While the debate is still out regarding the Raptor's intent to tow, we have seen a number of customers that do indeed use their trucks for towing or hauling heavier loads. The introduction of Performance Tow maps creates the ability to do just that while also enjoying increased power and torque. Compared to existing performance maps, these will utilize a slightly less aggressive boost curve and less ignition timing. This keeps the initial torque hit in check as to reduce strain on the drivetrain while loaded. Torque requests have been slightly reduced in both Normal and Tow modes, Sport mode will ramp in slightly quicker. The Performance Tow maps are available in both 91 octane and 93 octane flavor and can safely be used on trucks ranging from stock to our typical "Stage 2" configuration (intake + intercooler).
Performance Tow 91 OCT or 95 RON v200
Performance Tow 93 OCT or 98 RON v200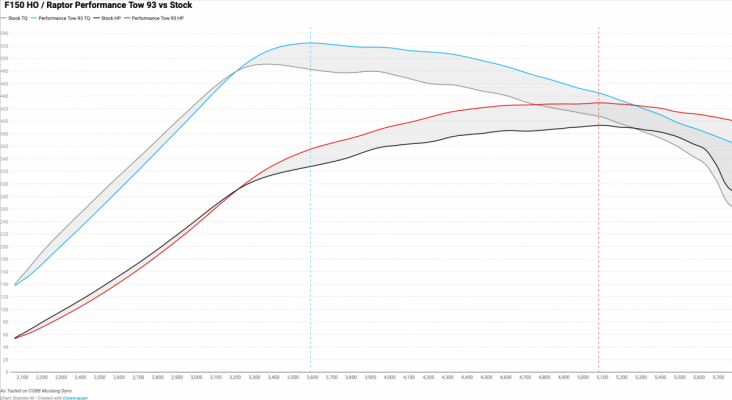 Performance Tow 93 Dyno Chart:
https://datawrapper.dwcdn.net/bocIF/3/
CLICK HERE for all dyno charts and Map Notes
---
How do you get these updates?​
Great question! There are two ways to access these updated v200 map files and new Performance Tow maps. One is to download them directly from the
Maps section of our website
and loading them onto the Accessport using
Accessport Manager
. The other is to perform a simple
firmware update
again using our
Accessport Manager
software.
Last edited: