As many people have been posting, it seems like some vehicles are being shipped to dealers. I just took delivery of my 2022 Raptor 37. Its mostly loaded- 801A, spray-in bed liner, moonroof, power tailgate, Raptor 37. Black seats. I think I'm just missing pro-power and the blue Recaro seats.
I ordered one in July, it didn't come through. Ordered one in December and it was cancelled in January. Ordered another in January and was told the VIN would be assigned anytime 'now' but as of March, nada. So I found a dealer selling one that was spec'd exactly as I wanted it, that had a VIN#, and a blend date, so I jumped on it. You'll hate me for it, but I did pay ADM. How much is my business, but after the frustrations, and waiting, it was something I was comfortable with and willing to pay to get my exact spec Raptor 37. Sharing for full disclosure. I see people that say "I ordered my 2021 and I didn't receive it yet". Well, I did too. And as consumers we have a choice- find a dealer at MSRP, get on a list, wait for Ford in a compromised supply chain environment, or pay for what we want. And really, even buying a Raptor is 'paying for what we want'. These 'toys' aren't a necessity of life.
Anyway- moving on...

Dealer received it 3/16/22 and I took delivery 3/21/22.
I picked it up about 300 miles away and drove it home. The trip was through some very windy mountain roads for about 60 miles, and then on an interstate cruising at 80mph. I'm not sure what it shows on the scales but I'm seeing 7150 GVW.
Handling: I was extremely impressed with the ride and handling going up and down the mountain. It stayed incredibly flat and stable, and had surprising amounts of grip through the turns. Not really what its built for, but just goes to show how well the suspension and balance of the truck is. The live valve shocks work very well. And for people that say you can improve it for off-road, yes you probably can. But for the purpose of the Raptor which is to drive on the street, highway, backroads, and off-road, this is a very tough suspension to beat.
Ride: As expected, ride on the highway is excellent. This truck is very quiet, and I'm not quite sure how they make a brick this quiet at 80mph. There is close to 0 wind noise- nothing through any doors or windshield, and you don't hear the tires any more than in any other vehicle. I have these tires on another vehicle and I noticed after 2-3000 miles, you could begin hearing it on the road. So I expect this as the tires get broken in. It is quieter and smoother than my previous Mercedes, Range Rover, etc. It handles any upsets in pavement really well. And for any areas where cars/SUVs tend to bounce on bridge expansions, etc. you can feel the initial bump and then gently comes down like a feather. Really impressive. On broken pavement you can tell there is no weight over the rear, but only slightly. You can't expect any better for a pickup that also has capability to handle weight in the bed and tow. There isn't the skipping and hopping around as the previous Raptor, and this is one area the new one really shines over the Gen2. I would pick to drive this vehicle for an overall ride and comfort over than almost anything else I've driven. And the fact that it is so utilitarian and can go almost anywhere, through any weather, it really makes this one of the best overall vehicles you can buy. There can be a few reasons why you wouldn't want to, see below.
Economy: I wasn't pushing the vehicle at all. Its new and I'm not planning to abuse this truck. So over normal acceleration through some backroads, onto the highway, and setting cruise at 80mph for about 200 miles, regardless of up hills, downhills, etc., it averaged 16mpg on the digital gauge. I think more than fair for a big truck rolling at speed on 37s. I did notice that normal driving for about 15 miles around town already dropped the average to 15.5. So I'd imagine I'll get a real world average of 14.5-15.
Interior: Yes it is much improved over the Gen2. The big screen and technology is nice. The cloth/faux leather? on the dash and upper doors are nice. The seats are comfortable. I have the 'base' Raptor seats (I wanted black), and the adjustability is terrible. At this price point they can improve seat adjustability and use a more premium level of interior components. There's a lot of plastic, that looks like cheap plastic. I may be too critical given that my other cars/previous cars included Porsches, Mercedes, BMW, Audi, etc. But even comparing it to my Grand Cherokee Summit, it seems cheaper. And this is significantly more expensive. Same thing with rear seats. They are comfortable, and I get that it is a pickup. But there are 6-8 cupholders in the rear which indicates that Ford anticipates much use of the rear seats by people, and in my case my family. I think they could improve the rear seat adjustability and cushioning to be a bit more like regular seats. The comfort is 'acceptable' and not impressive. I will say (as a general F150 comment), the cabin is very spacious!
Adaptive Cruise/Lane Keep: It works really well. I wasn't expecting anything as "Blue Cruise" is not available on the Raptor. But, the Adaptive Cruise works really well for highway trips. And the lane keep while using adaptive cruise steers well. The steering warning pops up, but if I just rested my hand on the wheel, there was enough torque to not give me the warnings much and clear it pretty quickly. The part where it is supposed 'detect' my hand on the wheel doesn't work as well. I noticed that if I'm lightly holding the wheel, it doesn't pick it up every time unless I hold both hands 10 and 2, which is uncomfortable and I don't do.
Most of this stuff you've read is out there. I'm sharing my views and impressions in order to help any other future buyers. I loved reading owner thoughts in my decision making, and so I'll say- The truck is awesome. Buy it. Enjoy it. Love it.
Here's my pic. I'll get more once I get it cleaned up and in better light.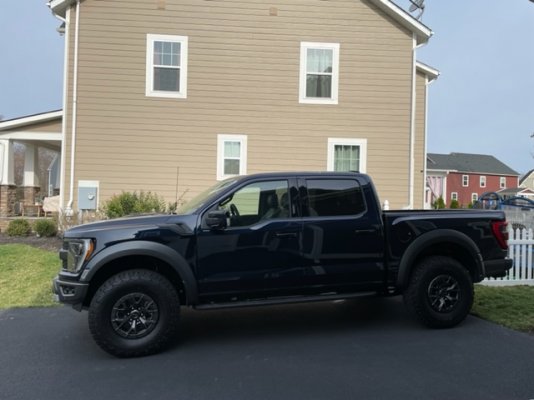 Last edited: