Joined

Aug 5, 2010
Posts

5,448
Reaction score

1,557
For a thousand years, the Mojave Road served as an important trade route and thoroughfare for Native Americans, Spanish missionaries, explorers, colonizers and settlers. On January 7 and 8 2012, the Road's history of peace calm and quiet was shattered by a raging horde of eight fire breathing Raptors! This is their story.
(Insert dramatic movie trailer music crescendo here)
The Road is one of those trips that has a little bit of everything; there are slow rocky parts to idle over, fast sandy stuff to blast thru, whoops long and big enough to push the limits of your suspension mods and driving skills, and salt flats wide open enough to let any Raptor bump its speed limiter. Throw in several man made landmarks and natural sights to see along the way and you're starting to get a sense of what the Mojave Road is all about. If you've never been, this trip is well worth making time for and experiencing yourself.
For me, the drive down to Laughlin is a long one. I left mid day Friday and pulled into town around 8pm. I stopped along the way only to fuel up and grab a couple obligatory sunset shots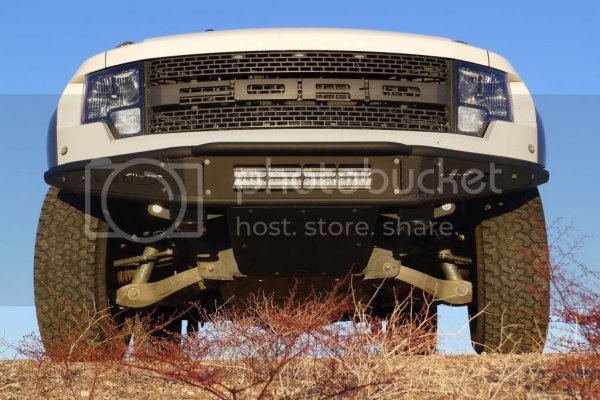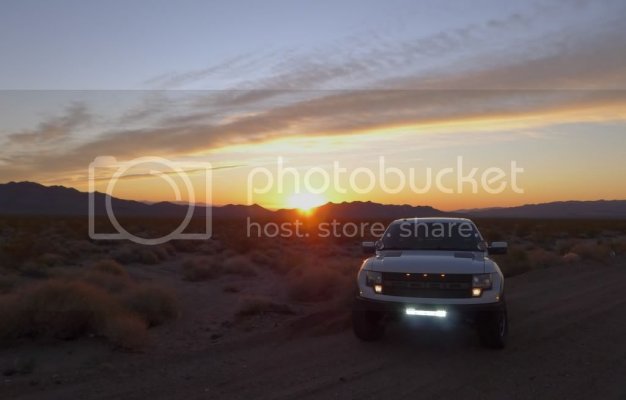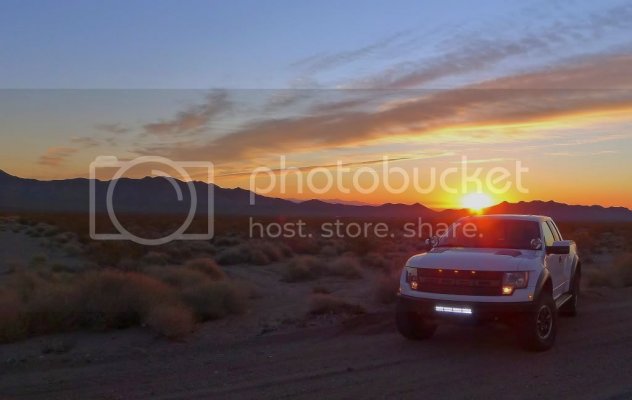 The next morning I got up early to ensure I had more than enough time to set up at the meeting spot and wait for everyone to arrive. As it turns out, I blew it and ended up on the wrong side of where I needed to be (don't ask

). It was 7am, meeting time was 730am I was 60 miles away via pavement... or 25 miles away via the sandy stuff. Guess which way I went
I pulled into Mile 0 (the meeting spot) on the Colorado River 5 minutes late sweaty and white knuckled, but otherwise no worse for the wear. I was greeted by DynoDynge and Miss Dynge, and we spent a few minutes saying hello, and airing down as we waited for everyone else. And we waited. And waited... I looked at my mobile phone and it read 8:50am. Whoa? Was I late? Did everyone leave without us? Where did that extra hour go? I mean Dyno and Miss were fun to talk to and all, but time hadn't flown that fast...
A few phone calls later, I had talked to most everyone else and they were in fact on their way, my phone was in fact incorrectly picking up Arizona time and all in fact was ok. A bit later bstoner arrived (left) with RPG's Corey and Rowdy (middle) and lined up with DynoDynge (right).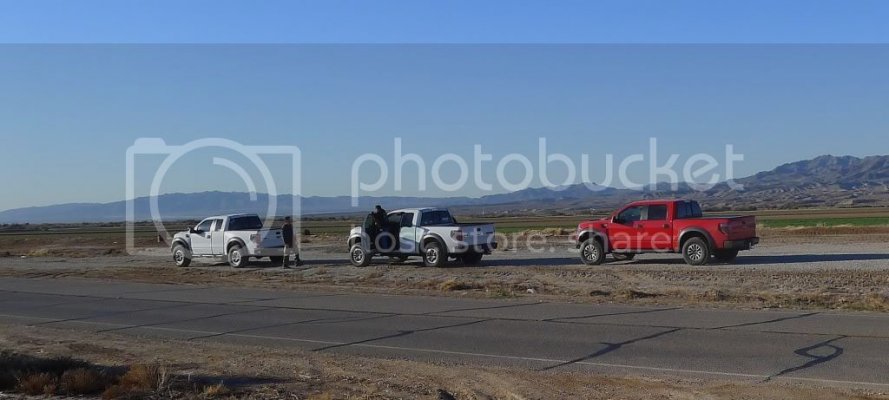 Shortly after that Outlaw Raptor and xjrguy showed up and we were on our way to meet with MarkT and lvdesertdawg (who were waiting for us 30 miles up the trail), making 8 the magic number for the total Raptor count on this trip. bstoner took point and led the way, I took the rear to make sure no one was left behind and the rest filed in as we headed out.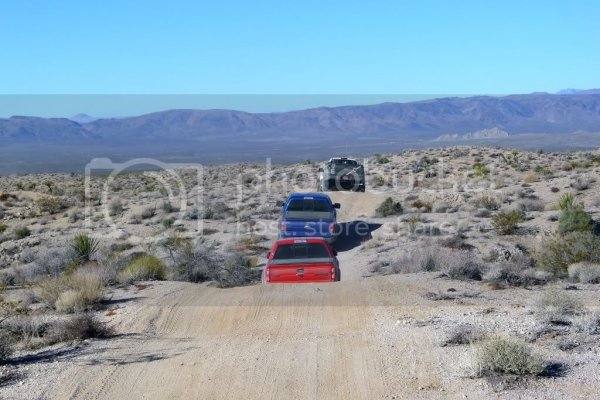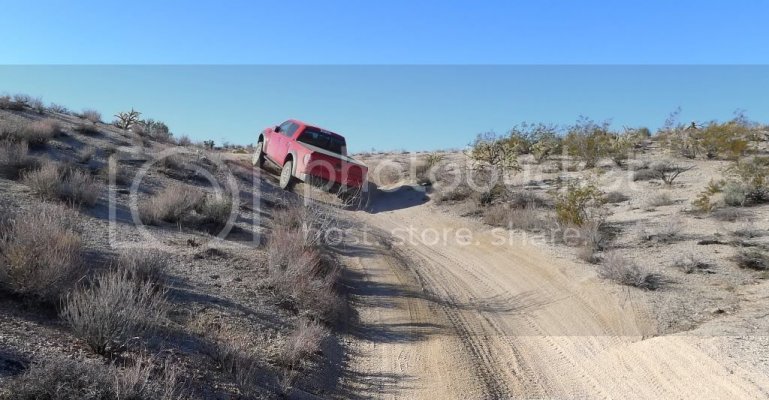 Once we were together we headed out to our first stop, Fort Piute.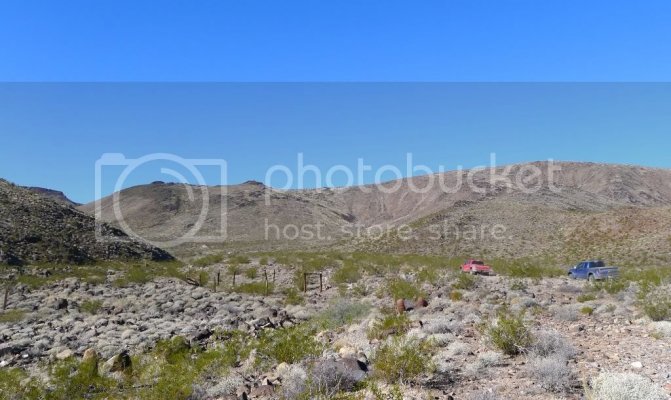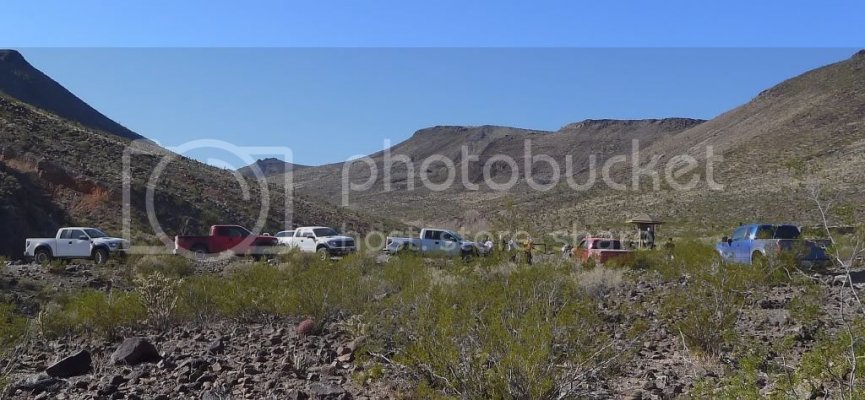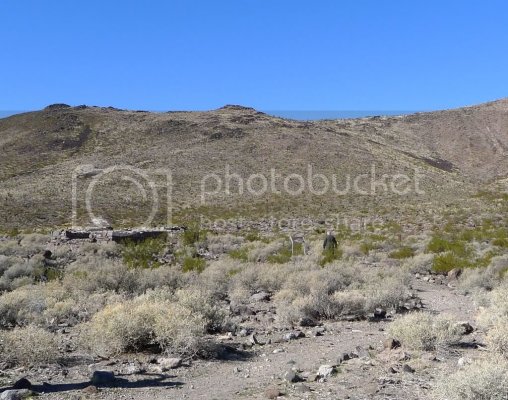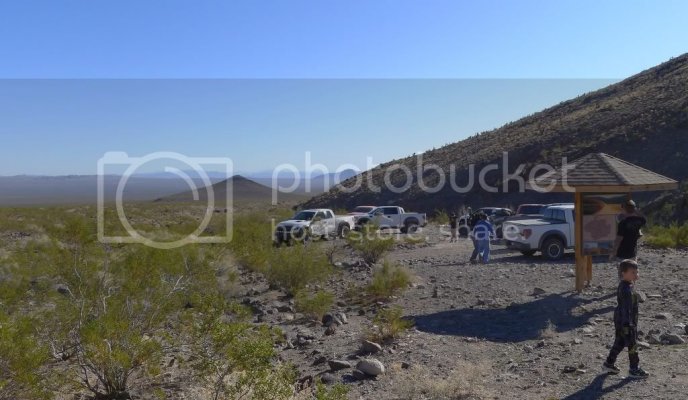 See that dust trail down there? I think that was a group of Chevy guys who were running the road too, about an hour behind us. They were some cool cats, as somewhere along the way DynoDynge had lost a very nice custom (aka expensive) hitch component. Those guys found it, picked it up, held on to it, tracked us down at camp later that night and handed it back to him. Talk about a classy thing do to.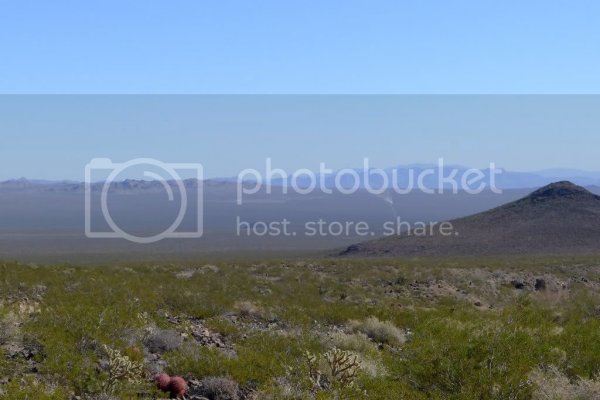 Here I am (take a guess which one) flanked by Corey on the left and bstoner on the right.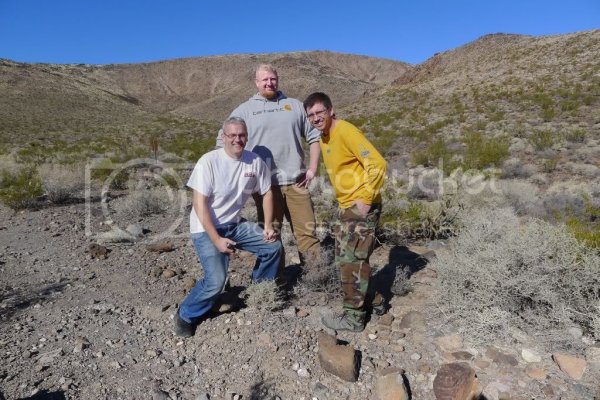 Then we made our way thru Lanfair Valley to the lunch break stop, the petroglyphs at Indian Well.
Along the way to the Well, part of the trail has you cut across a deep wash that is bordered by thick brush and cacti. With 8 trucks on this trip, you might imagine that we tended to get somewhat spread out from time to time. And that works just fine as long as the #1 rule on a trip like this is followed:
never lose sight of the guy behind you.
The idea being if you lose sight of them, you stop and wait. The guy in front of you sees you stop and he stops, and all the way up the line until the lead stops and the caravan is paused waiting together.
Unfortunately, thru that wash we did lose sight of each other and as a result we ended up in two groups. And of course, one group made a wrong turn and got completely off course. Im glad to say we all stayed calm, got on the radios and worked it out (not after a dozen three point turns though
).
Alls well that ends well, but it was a very good reminder and example as to why a rule like that is so important, and how everyone needs to follow it at all times. Lose sight of your trailing man for even a minute and bad things can happen. I'm glad to say other than a few briefly frayed nerves, this time it wasn't a big deal. I'm also glad to say we learned from that little hiccup as a group, and we didn't get separated or lost again anywhere along the rest of the trip.
Last edited: