2011 with 140k miles. Have been noticing a new rear end noise last few months. Took it to a Ford Tech and he had trouble replicating - he said would drive this truck across country any day so $180 inspection fee and no diagnosis.
To me, it seems to be getting louder the last 2 months. The noise is on acceleration but disappears on coast so I thought a load side pinion bearing but maybe not loud enough. I opened the diff intending on replacing the carrier and pinion bearings this weekend. Diff fluid was pristine, no metal, nothing untoward on the magnet. Ring gear backlash is 12 thou (spec is 8-12 thou). Ring gear, spider and side gears look great. Wear pattern in the yellow goo looks fine. Everything rotates fine with no untoward noises. Didn't take out the carrier yet and backtracking on replacing the 4 diff bearings because maybe that is not the problem?
When I took the axles out, I noticed the plastic coating on the ABS tone rings are worn on both axles. Now I am thinking the axle bearings were worn and the noise was coming from the tone rings contacting the ABS sensor posts intermittently. No rub marks on the sensor posts that I can see but they are really just getting through the plastic so far.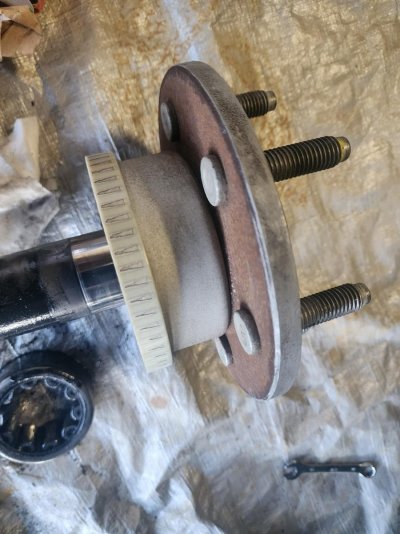 ABS sensor post is at 9 o'clock. It is 18mm from the hub and with the axle installed is only 1 or 2mm from the tone ring.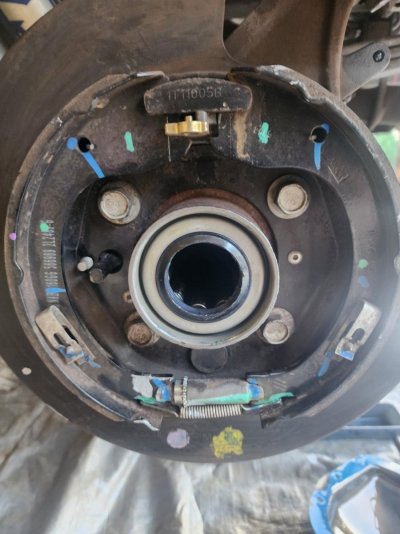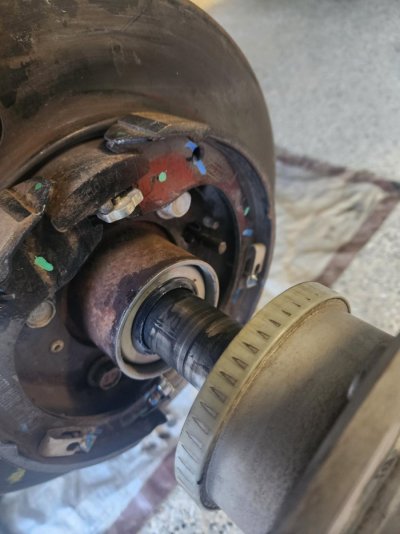 I replaced the axle bearings and seals and I can button it back up and hope the noise goes away or,
while it is open I can pry off the tone rings and press new ones on (~$70 each OEM),
or if the noise is still there, will do the diff bearings next weekend.
Has anyone come across this tone ring wear and how likely to be the problem?