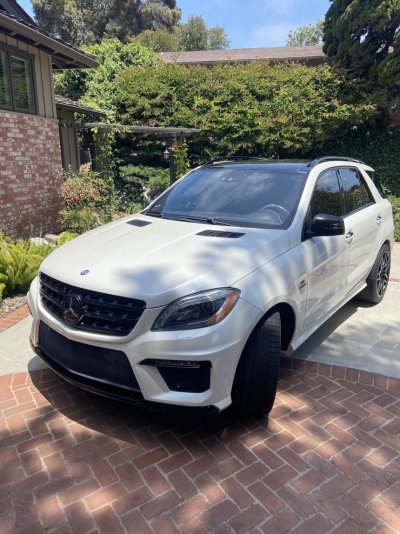 Wonderful Diamond White Metallic P30 Package 2013 ML63 with Twin Turbocharged 550hp / 561 lb-ft and now 600+hp with RaceIQ Tune. AMG Speedshift 7G Automatic Transmission. Black Leather Designo interior with heated and cooled front seats and heated rear seats.
75K miles. Miles will increase slightly as it remains my daily driver.
Black 21" AMG wheels and new All-Season Continental Tires < 1000 miles with Falken summer tires included with sale.
Bang & Olufsen sound system ($6400 option).
Wishing to sell as I am looking to purchase a needed truck, that's it. It is a amazing car, hate to see it go.
Extremely well cared for with recent "A" service with tires, brakes and air filters checked. All recommend services completed. See details on invoice regarding the turbocharger coolant lines and radiator work. The heavy lifting in terms of repairs of a known issue has been addressed.
Fully loaded with more options than I can list. Amazing sound. 2013 includes the upgraded timing chain
No assistance needed with sale.
Texts are preferred
SoCal Car recently relocated to CO