Joined

Jul 12, 2021
Posts

50
Reaction score

48
Location
All,
Looking to poll the crowd and get a little insight regarding the installation of my Procharger kit. I reached out to Livernois Motorsports to quote the install of my D-1SC tuner kit, which comes with everything minus the fuel injectors and Procharger's tune. When I requested the quote, I requested they also install/perform the following: Powerstorm billet oil pump (offered on their website,) colder spark plugs, Evenflo thermostat, and finally, a dyno tune. The quote, which I have attached to this post, was quite a bit more than I was expecting.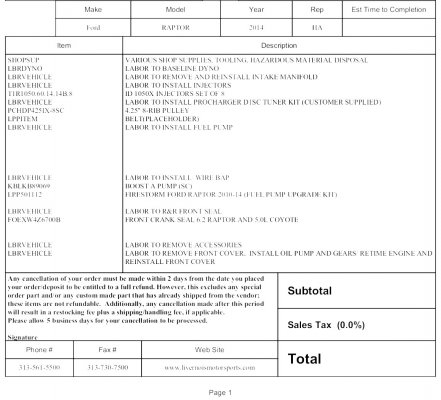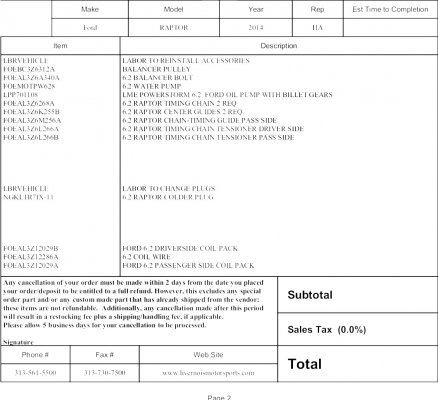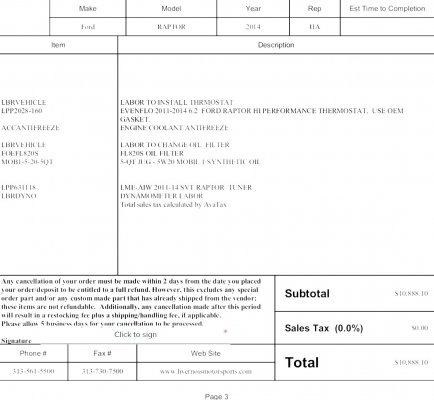 As you can see, there was quite a bit on here that I didn't ask for, which bumped up my estimated cost considerably. I sent another message to the representative asking for a quote minus the additions:
"Alright sir, I'm off the clock and checked the quote over. I recognize the other items you added to the first quote are an upgrade, but that's just more than I'm willing to invest into this build. I love this truck and I want to make it a little more fun with the blower, but I can't justify those other recommended upgrades at this time. I was looking for a build more like your S580 performance pack you guys advertise on your website, with a few alterations. 1: I already have the actual procharger kit and cat back exhaust, so I wouldn't need those. 2: I would still like the billet oil pump+install. Those two points aside, I would only want the items listed in the S580 procharger performance pack. I hate to be a bother, but could I get a quote more in line with the S580 pack? Your shop has a reputation on the forums for being THE tuner for Raptors in Michigan, and I look forward to hopefully working with you guys."
And I received the following response:
"the packages on the website are based on completely stock vehicles below 30k miles. So being above this mileage, the price would change due to needing some items and additional labor due to the mileage. In the case of the 6.2 we have noticed some common failure points as they get higher in the mileage, especially in oiling, valvetrain, and cylinder head the quote sent addresses the failures that we see most commonly. Now, If you want to forego the suggested replacement parts we suggest then we can, but you would have an additional waiver to complete as your likelihood of failure dramatically increases. We strongly recommend doing the quoted preventative replacement as you will, at some point, end up needing to do them, and when these fail, it will be catastrophic, and with making more power, it will cause even more damage than normal. Also, while the vehicle is here, if any of these components fail or are on the verge of failing, we would have to replace them. An example would be if say the water pump had gone bad or we notice the timing chain has stretched , in these instances we would need to replace these components. And if they already have failed, the cost to tear it back apart is substantially more than doing it ahead of time."
This is not me bashing Livernois. I understand where they are coming from, and agree that all of the above parts would be best case scenario for my build. I could pay another $10,000 for the install, but do I want to? absolutely not. I wanted to check with the community and see what parts may be worth adding, and which ones are not necessary. There are quite a few items listed which I haven't heard have failed with other supercharged builds. I am not looking for a super aggressive tune, I want the added power but with drivability in mind. I have not experienced any engine issues with the truck since I have owned it (minus a cracked radiator,) and the Carfax didn't show any points of concern when I purchased the truck. I am not looking to add more mods (after this) to increase performance, this is as far as I want to take it. I apologize for the lengthy post, but I would really appreciate some input.