FRF Supporting Member
Supporting Member
Joined

Mar 13, 2023
Posts

61
Reaction score

84
Location
I purchased my first Raptor Monday afternoon, in fact, my first Ford vehicle ever. It's was a dealer stock 2023 Raptor w/ pano and tailgate appliqué being the only options. ADM was $4,300, but I got them down to $1000 and to throw in a spray-in bed liner…net ~$500 ADM
I've never been brand loyal, or a fanboy of any type. I just get what I like and what has my attention. Raptors have always been on the short list, but never pulled the trigger.
My past trucks going back to 2006 were:
2006 GMC Sierra
2015 Toyota Tundra SR5
2017 Toyota Tundra Limited
2021 Ram 1500 Limited
I've enjoyed them all, but I tend to get bored and then my eyes start looking, God bless my wife for her understanding and support. Most recently with the Ram, I knew the only two trucks I would consider trading it in for were a TRX or a Raptor. I'm not a fan of buying used, and the market for new TRXs and Raptors are tough to get into. But, sure enough, my local Ford dealer had 2 Raptors show up. An AMB 37" package and a OW 35" 801A, asking prices $98K and $86K respectively. Truth be told, having never owned a Raptor, or Ford for that matter, the 37PP seemed like a steep cliff to step off as a "newbie", so OW 35" it was.
My wife was in the Bahamas on a girls trip, so I texted her Monday morning and said "think I might try to make a deal on a Raptor." I got no response for hours (spotty reception and out doing fun stuff). She finally texted back and said "so, did you get a new truck?" To which I responded "not yet, going after work in a few minutes". Naturally, I went and bought the truck and sent her a simple text "got it" and her response was "will it fit in garage?" and I said "sure it will" (secretly wondering myself).
Drove it home, and pulling into the garage I hear a noise. Uh-oh I think to myself as my stomach sinks. Thankfully, at the same time, I notice the whip antenna moving, and proceed to pull in. Within 10 minutes of being home, I was on Amazon ordering a stubby. Window tint scheduled for Thursday, and I'm looking through the wheel thread gaining knowledge of appropriate sizing and offsets for this truck.
So, that's my long-winded into. Of all the trucks I've had in the past, the Raptor has the largest following and, as a result, the most knowledge filled forums. I look forward to learning from you guys.
Obligatory pics (or it didn't happen). This is all I have so far: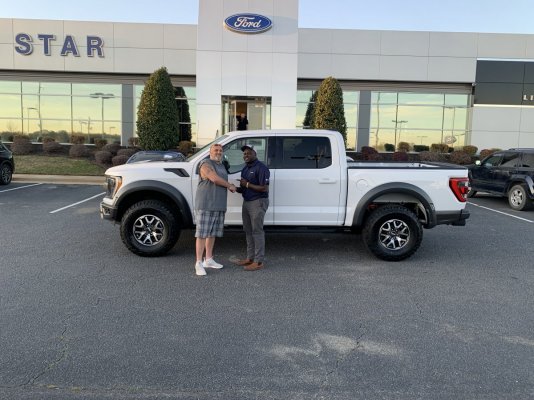 And when I got home, took and send this to wife as "proof" haha