Supporting Vendor
Supporting Vendor
Joined

Apr 12, 2012
Posts

1,679
Reaction score

1,071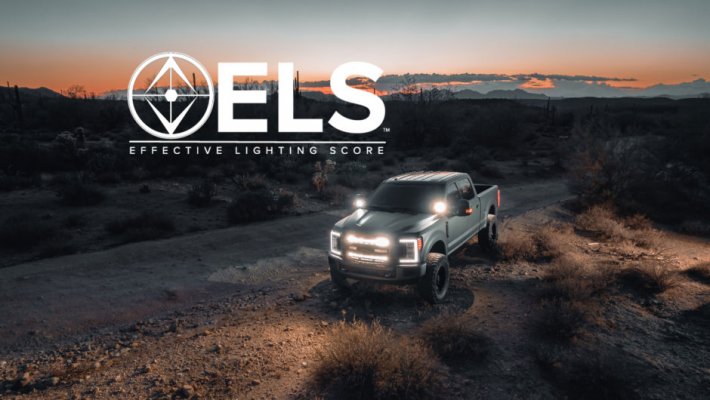 Baja Designs strives to be a leader in the off-road industry by making the best lights on the market, and we have done that through rigorous real-world testing and back that up with countless wins in off-road racing. That has resulted in 30 years of research in off-road lighting, from exploring Baja on dual sport motorcycles to driving 130mph through the night with 1000hp Trophy Trucks, we have learned a lot through the years. As a result, we've created
"Effective Lighting Score (ELS™)"
for one reason; to better describe lighting performance in the off-road space which uses four key factors that illustrate the true performance of an off-road light-giving a (ELS) score.
Blend Angle/ Blendability / Distance / Output.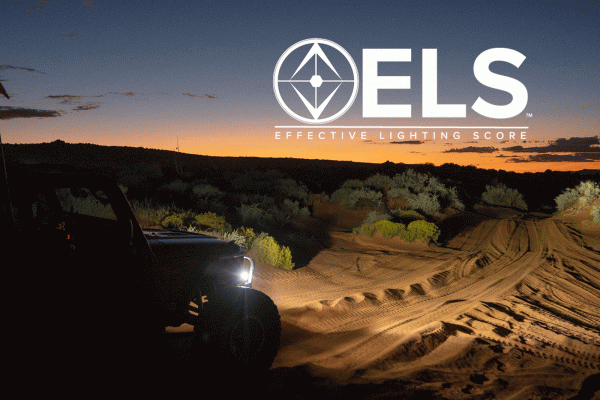 Baja Designs has launched an interactive web page to better describe
"Effective Lighting Score (ELS™)"
that not only is limited to describing those four key factors,
Blend Angle/ Blendability / Distance / Output.
But features an interactive simulator comparing Baja Designs with our competitors using a simulated behind-the-wheel 3D environment using data measured by an unaffiliated 3rd party laboratory. This not only allows you to see how each score is derived but see a side-by-side comparison through an accurately simulated environment.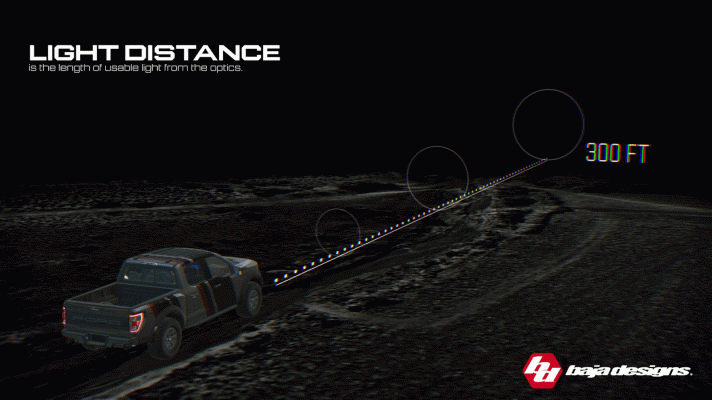 Off-road racing and recreational lights are not limited by the same rules as on-road DOT-compliant lights, leaving no ceiling in performance. With that in mind, consumers in the off-road market desire bright lights with sufficient distribution to improve visibility while driving over all types of terrain. An ideal lighting package will inspire driver confidence by eliminating dark spots in the driver's field of view while the vehicle pitches and rolls.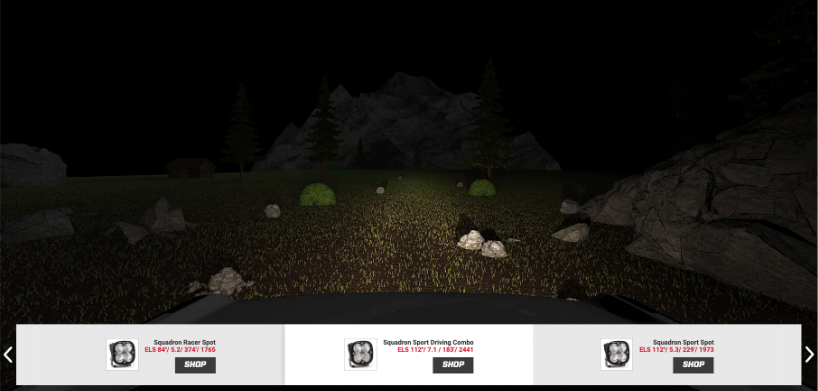 Traditionally off-road lights have been described using only Raw or Theoretical lumens (the amount of light) and the distance (how far the light shines). Through years of research and development, Baja Designs has determined that the most important quality of a light is the amount of free light that exists outside of the main beam pattern that creates a smooth transition of light from the center to the peripheral that reduces eye strain in recognizing obstacles and improves endurance. The smooth distribution of light benefits the driver's experience but is not well represented by the aforementioned industry standard specifications of peak beam intensity, total raw or theoretical lumens, and distance at a randomly derived lux (typically 1 or .25).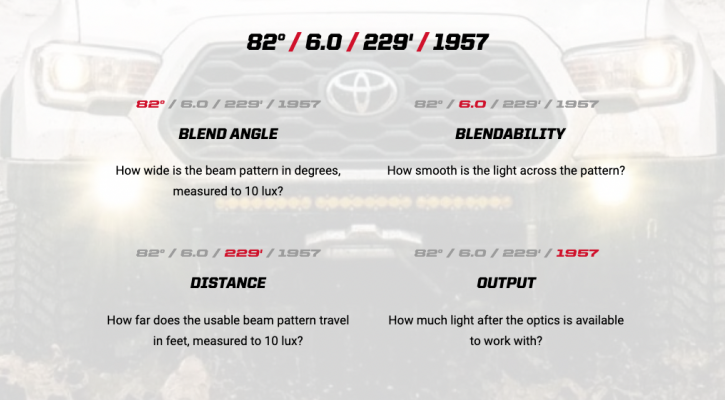 To learn more about "Effective Lighting Score (ELS™)", check out our new web page. Or if you want to dive deep into the science behind (ELS) you can
click here.
​