Joined

Dec 29, 2010
Posts

196
Reaction score

30
Location
I was recently reading Quadratec magazine (my buddy is thinking of getting a Jeep), and i saw something from smitty built that looked pretty cool. It was a Molly seat cover for the back seat of the jeep. I thought to myself, that would be awesome for a Raptor, but it would not work (as raptors do not have room behind the back seat). I thought about it, and then thought, what about if the MOLLE was underneath the seat??
I then scoured google for any attempts of trying to find what I was looking for. I came up empty handed. I then began to look for custom MOLLE gear makers (ones made in the USA, like my truck was). A majority of them came back with having too many projects to work on mine, however (1st Shout-Out) Paul Lewis (
FHF Gear
) went out of his way to refer me to another custom gear maker (2nd Shout-Out) Scott Marquez (
Sunrise Tactical Gear
).
Scott went out and got the measurements of an F-150, sent the specs within a day, I double checked the specs (slight modification as the Raptor is wider), and went ahead with my order with Scott.
Scott has done an awesome job! as you can see from the pictures below. Within 1.5 weeks of having this idea (during Thanksgiving week) Scott was able to make the product, finalize it, and ship it out to me.
Why I recommend this system.
1. I helped come up with the idea for my truck.
2. It may help you with your storage issues. I always leave my backseat up to store items for work (instead of storing on the seat). Also, when I attended the raptor run, I ran it with my backseat up. As you can see from the picture, I can access any of my gear at any time when the seat is up, however, if i need to put people in the back seat, I can safely store the gear underneath.
3. It is MOLLE, so you can either find a pouch/holster for what you want, or order a custom MOLLE (from Scott or Paul). I plan on adding the essentials to mine (First Aid Kit, Fire Extinguisher holder, etc) instead of cluttering up my center console (or having to dig around for items or putting holes in my truck). I plan on spending some time working with the MOLLE I have to find my ideal setup.
4. Was quick to install (no more than 2 minutes), fits snugly with little wiggle room, and can be removed quickly.
5. Able to still use seat belts and seat latch to lower seat.
Now for the important part, Price. Scott only charged 90.00 for this awesome seat cover (shipping included). *Prices may change depending on features you want.
When I ordered, here were the color options I was given
Mulit-Cam, Coyote Brown, Coyote Tan (tan with hint of green), OD Green, or Black.
I went with black, to match the back seat. I used the 1,000 D nylon, but Scott did send a sample of the 1680 Ballistic Nylon (much smoother, not that the 1,000 is rough. Just smoother.)
If you are interested, Maybe Scott can do a Group buy (*Cough* Forum Admins *Cough*).
Bottom Line
Great product, Great People, Great Idea, Great Price.
Contact for Scott is
[email protected]
Contact for Paul is
[email protected]
Chris Foster
Pictures
Cover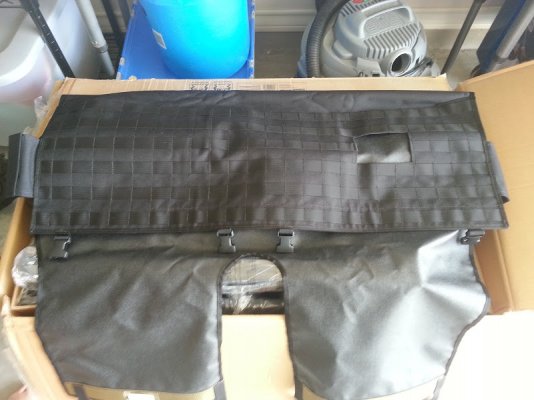 Seat Up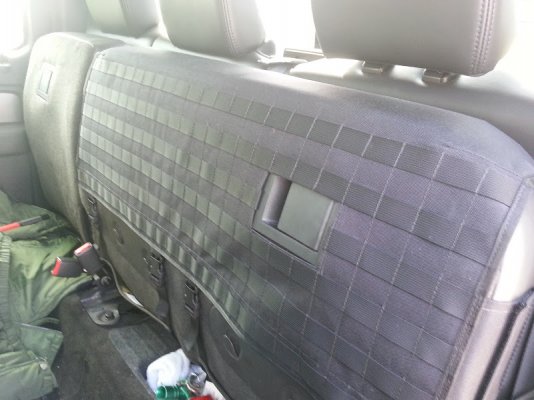 Seat Down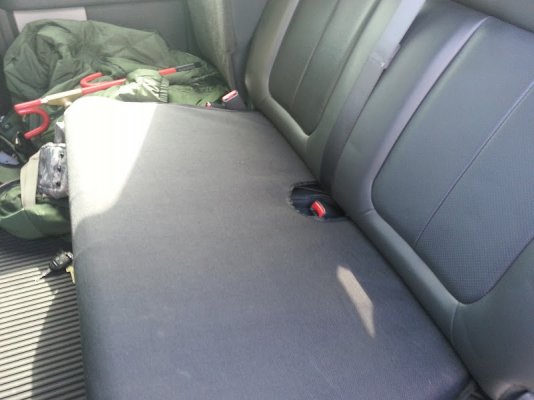 Seat belts still work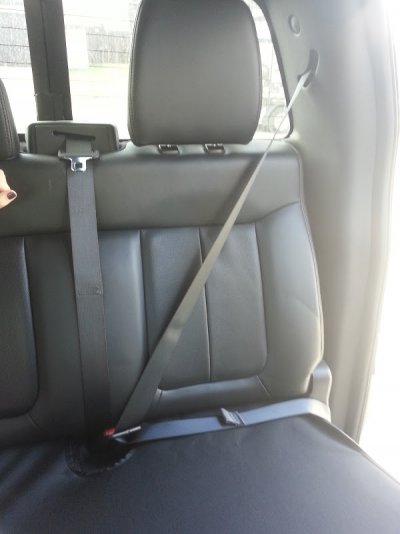 With Molle Up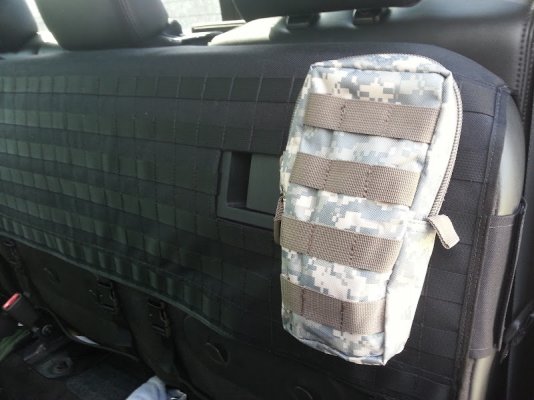 With Molle Down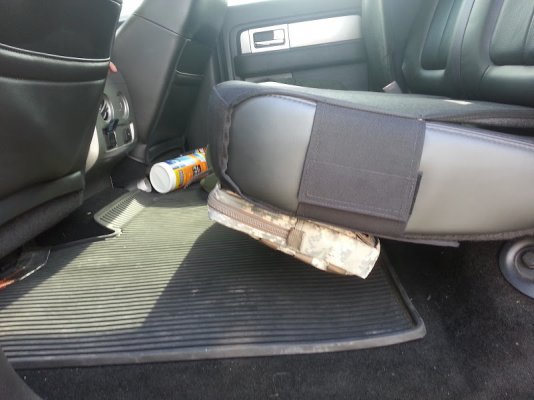 The Best Part of the MOLLE