Be vewwy, vewwy quiet. We're hunting sasquatch77
Joined

Dec 16, 2016
Posts

14,304
Reaction score

19,327
Adam challenged me for pics ( or it never happened right? )
#8
So, I've been cycling out my cheap amazon lights this year, replacing with quality stuff. If you learn anything from this post - buy once, cry once and leave that stuff alone. Don't buy cheap and then have to come back on it a couple years later.
so, I had some amazon Kawell LEDs behind the grille and swapped them for a B/D S8. good move for me and the purchaser of the very inexpensive and still working well old lights. Recently, one of my $15 amazon "reverse" lights I have on up fitter 6 failed. I'm running 6x squadrons up front with the weakest being the old model squadron sports, at about the same lumen listing as the SAE lights.
I'll take 2x SAEs for the front then. I'll just move the squadron sports to the rear, grab a pint and call it done, AMIRIGHT?
Yeah... not so much.
No fault of Adams, the SAEs were at my door in something like 42 hours. Front swap, easy peasey, right?
let's get started.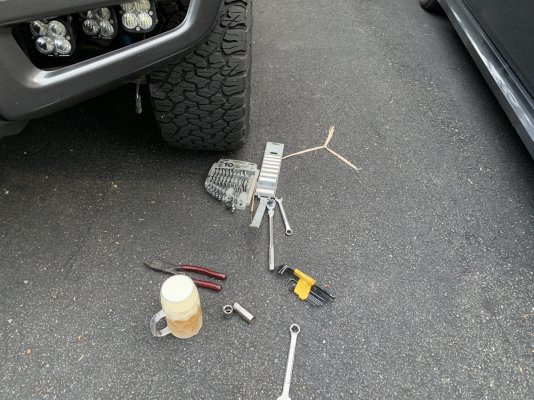 pull the connectors on the outboard squadron sports, and realize - Oh yeah... this is the one that I stripped the b/d nylock nut / bolt and had to use extreme measures to pull it apart, and mount with an improvised solution. Maybe the hex heads will come off. ( In retrospect, I can't believe I even thought this. ) Despite using anti-seize on the B/d horizontal mounting screws, they won't budge. Ever. the hex wrenches just spin away, stripping bolt metal with them. So I remove the vertical mount point slowly and deliberately and with many protestations to the almighty.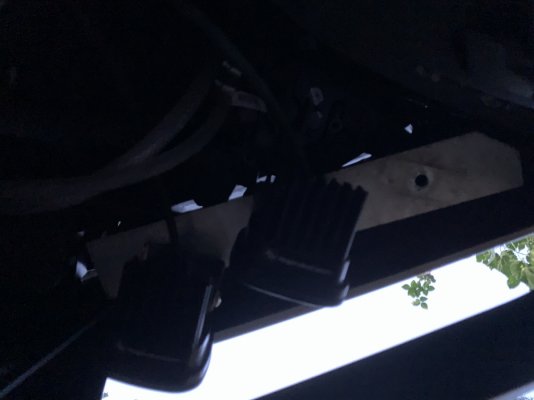 that went well, let's move on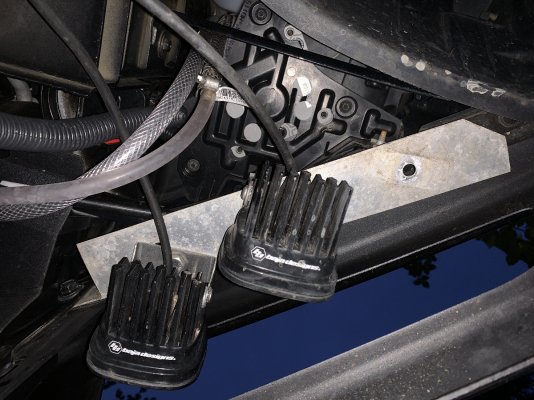 savvy viewers will note we're looking at the same side, yet something is different. namely it's now DARK out. one of the lights gave me some grief removing but just took some patience. Note the home made light mount with high redneck quotient.
Admit it. You lot didn't think I knew the word 'quotient' much less that I'd be able to use it in a sentence.
ok, squad. sports off, SAE mounted and done. Took them to the local parking lot for some brief aiming and PRESTO. Not much loss from the squadron sports with wide corner lenses. Initial driving impressions - not getting high beamed by oncoming drivers with the SAE, no chance of that happening around here with the wide corner squadrons of any variety. So B/D did their homework on this, we still get good light throw, but not bedazzling oncoming drivers.
So the SAE are currently wired in to an up fitter only. working on a harness / tap solution.
Moving on...
For the rear, I'd been running LEDs on up fitter 6 but, I wanted a cleaner solution to run them with reverse lights as a trigger and on an up fitter for off road use. Some searching here revealed several solutions, and internet search engines show using diodes and a relay... I had a great deal of difficulty with this.
I'd settled upon a relay wiring with a hat tip to
@nah_tan
for the relay suggestion, with some modification.
#1
1- a relay is needed to accomplish triggering the lights with both reverse AND up fitter.
2- some methods recommend a diode. They are not necessary with @nah_tan's suggested relay wiring, which I will echo here with a slight modification.
3- avoid the pitfalls I tripped over.
so, mounting was of course, not easy. My projects are like mini Odysseys, and can be referred to as a case study in the application of Murphy's law. Mounting up the squadrons there are a couple of issues from cheaper lights --
Ford provides 2 convenient holes in the bumper for lights right here. Provided they're not Baja Designs squadrons !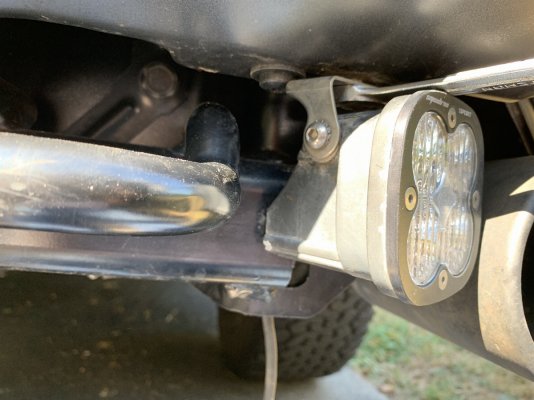 This image doesn't fully illustrate but you can see the problem here - there's a bolt on the bumper perfectly positioned to prevent a squadron mounting bracket mounting here. You have to space the mount away from the bottom of the bumper with either washers or a nut or something.
The light is nowhere close to the exhaust pipe as it appears to be here. The light is rotated as I'm removing it.
Next, once mounted, the trailer hitch has the lights pointing at the sky.
Off they come again so I can drill out the factory holes here and get a proper aim. So, a quick dismount, drill out, remount and all is well. I now have the lights properly pointed to the rear and working on up fitter 6. Now for the additional wiring and here's where things go south. We're talking way down in the bayou south.
First I tried using the trailer hitch wiring to power the relay, when that failed, I tried the bed light circuit as referenced on here, and finally ended up making a home run to the battery.
So, to get the lights to trigger on reverse AND by up fitter, using a 5 pin relay.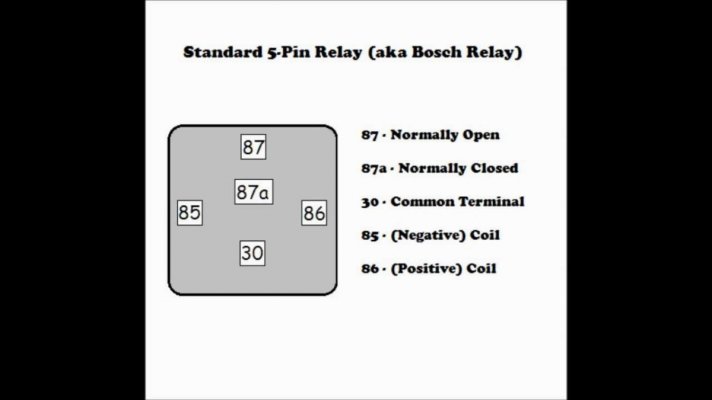 Pin 30 - connect this as the output to the 2 lights. Normally this pin is battery power.
Pin 85 - relay ground
Pin 86 - Up fitter wire. this triggers the relay.
Pin 87 - Battery +; some have advocated using the trailer hitch power; see below
Pin 87a- Reverse circuit on the trailer hitch plug. The center pin and wire.
Wired this way, when you hit the up fitter, via pin 86, it's the 'trigger' that activates the relay coil. This sends power via 87 or battery positive through pin 30 to the lights.
Turn the up fitter off; shift into reverse and 87a sends current through 30 to the lights.
So what if you have an up fitter on and shift into reverse? Only one of the 2 pins 87 and 87a get power at a time. The relay is basically a switch.
see :
https://www.jcroffroad.com/install_guides/Backup_and_ACC_light_wiring_diagrams.pdf
Another method is described here, showing diodes in use. That's because 2 inputs are sharing one pin on the relay, presenting the possibility of a back feed. (that's bad). Look at the diagram of the relay though and you can see that only one of the 87 pins can be active at a time, so there's no need to run diodes wired like
@nah_tan
described previously.
Here's where I differ with their plan.
@nah_tan
and a few others on here recommended using power on the trailer plug to trigger the relay. #Hogwash. I wired up the relay 3 different ways trying to use trailer pin power and it didn't work. It seems Ford designed a 'smart' trailer connection system that senses power draw and doesn't activate 12v power at the harness unless there's a sufficient power draw. Lucille is a 2017 era Rap and the relay does not create a power draw sufficient to have 12v power at the harness. Reverse is hot on the trailer harness once the truck is actually in reverse though.
But wait, there has to be 12v power at the rear of the truck right? How about the bed lights?
how about not.
So I've seen bed lights referred to a couple times here and sure enough if you trace the bed light switch circuit, it has constant 12v power. But it doesn't have the juice to take another 3.2 amps. At least not in addition to the bed lights.
Inquiring minds might want to know what circuit those bed lights are on - they're not on a fuse. They're controlled via the BCM. So, when I got the lights working exactly like I wanted tapping the bed lights circuit, I about tore my shoulder patting myself on the back. And when I fired up the bed lights, they petered out with a whimper. I did some searching and found:
https://www.f150forum.com/f118/button-bed-lights-seems-disabled-381486/index2/
that led me to understand the BCM controls the bed lights and if BCM controls the lights, I can control the BCM with Forscan ! Sure enough, there's a DTC on the BCM. I clear it with Forscan, bed lights work again. By this time, I realize there's no way I get this working without another, 2nd wire, running all the way from the battery. So I pull out some wire, alligator clip to the battery and validate it works and spend the next hour wiring up the circuit to the relay.
Many, many pints of home brewed pale ale later, I now have
properly aimed B/D SAE lights
properly aimed reverse and up fitter activated B/D squadron sport wide corner lights.
Anyway, I hope this helps someone down the road or at least provides some entertainment value here.
Slainte !