Retired, now just a happy grumpy old man!
Joined

Jan 17, 2017
Posts

1,169
Reaction score

1,247
Location
The search for more brake
Sooooo after cooking my OE brakes (street fade) here in the land of 75-85mph speed limits and short off ramps, I started looking around for upgrade options.
The F150/Raptor Alcon kit seemed to be the early go to, but I just found it WAY too expensive at $3200-$3900 per axle set. I have a history in aerospace manufacturing/automotive community and although the kit's features preclude it from being "cheap", the price was still hard to stomach for me knowing a lot of what it takes to produce it.
In my Toyota experience, I found the OE brakes to be above most OEMs but still a little lacking for my uses. However, Stoptechs Z36 kits took care of any shortfalls for my Toyota exploits. After talking to a few Raptor users of this kit and others like it, just didn't seem like it would be enough for me.
While researching possibly cobbling together my own kit with custom mounting brackets as I'd done with other platforms in the past, someone was selling a number of new Roush (Alcon) loaded caliper and disc kits on Ebay for $999.99. Less mounting brackets. This was stumbled upon in the Alcon review thread and I forget who to give credit for that find.
Pics via for sale post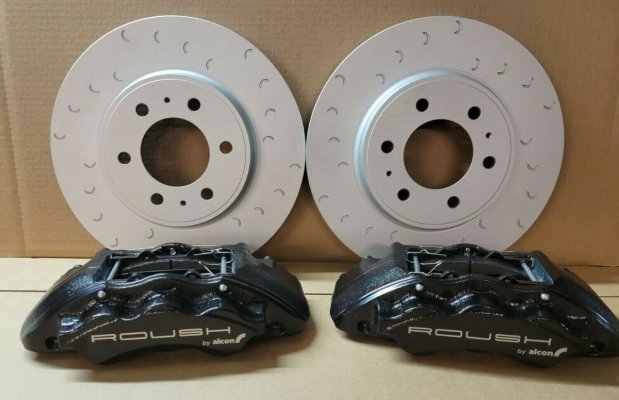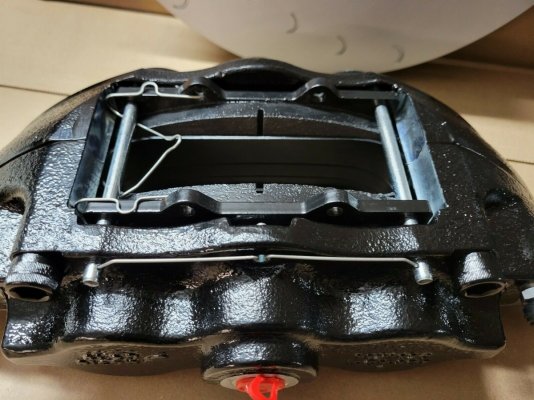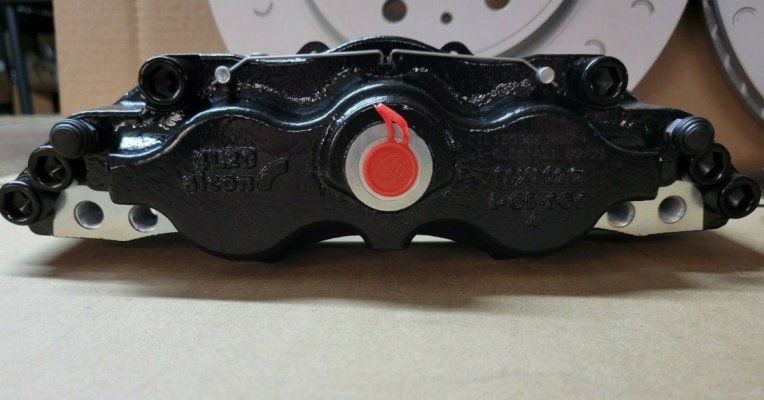 I was skeptical at first, but after a few members purchased them it seemed to be the real deal. They were purported to be new 2021+ F150 components that would fit the Gen 2 Raptors. The kit used 4 bolt radial caliper to bracket mounting bolts vs the older 2 axial bolts. The only downside I could find was wait time for the brackets to be manufactured by Alcon (European company) and shipped over. Wait times seemed to be 2-3 months on average.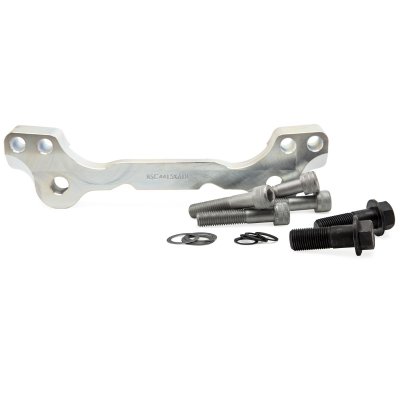 Cost to my door for the two steel 4 bolt Alcon brackets was $466.40.
Here is some info provided by Alcon about the full kit:
Key Features & Benefits
Gains in performance over stock braking systems:

10% reduction in disc temperature rise
33% reduction in pad work rate
Up to 15% reduction in pedal effort

Ductile Iron caliper housing providing maximum strength and stiffness as well as high resistance to impact and fatigue.
Epoxy acrylic paint over acid zinc finish for maximum corrosion protection.
High friction pads increase stopping power.
Larger rotors increase brake torque and thermal capacity, reducting potential for brake fade.
Increased pad area reduces temperatures and increases pad life.
***It is important to note***
It is my understanding that the kit was originally designed for DOD contracts for up-armored vehicles. Hence durability taking front seat to light weight in building materials in calipers and brackets.
Here is a little info gleaned from Apollo Optics test of the Alcon kit. Nick is great to work with and I'll continue to do business with him in the future. Their video can easily be found in the other threads or a quick search of youtube.
Apollo Optics test on Gen 2 2018 with 20 inch wheels (don't remember what they used to measure this information):
***It is also important to note***
Unlike the the 2018 used in this test, the 2019 and up have an electric ebrake that is not compatible with the Alcon 4 piston kit. For these later models Alcon only offers pads and discs. I do not know if the Alcon 4 piston rear pads have more surface area than the Alcon pads for the OE electric ebrakes. ***interesting tidbit later about OE pad surface area***
OE 0-60 distances 144ft/145ft/151ft (expect due to fade).
Alcon 0-60 distances 105ft/108/ft/110ft.
Last edited: