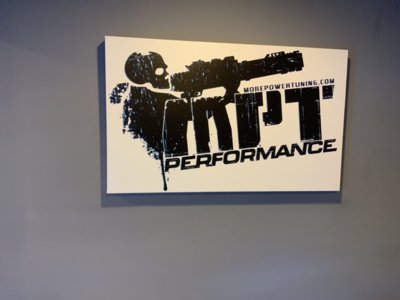 Dropped off my truck to Mike here at MPT. Still working on fine tuning all the details but I can say that MPT is very close to a finished product. Big thanks to the team here at MPT and I am glad I can help the forum members with 2019's get tuned.
Few things to note:
1. Mike and his shop are extremely professional and courteous. Everything here as you can expect is very clean and top notch.
2. Mike is a very thorough and detailed individual. I got here at 10:45 a.m. today and he will be here all day working on it (its now 6:15 p.m.). He will not allow my truck to leave until he is satisfied with numbers and how the truck responds to the tune. Talked me through the whole process and answered any questions or concerns I might have. Mike is definitely a car guy and more over an EcoBoost fan!
3. Mike has a really cool mustang here that he dropped a twin turbo eco boost in (I will include a photo). But this thing is retro modern cool with a mix of new tech and old design elements.
4. I was not confined to waiting area and allowed to be part of the process and watch the work unfold. Pretty cool for me as its been a long time since I have been around stuff like this.
5. Engine wise, my truck is totally stock. No intake or filter - no cooling or enhancements.
6. I have some cosmetic upgrades to my truck - 20 inch wheels and 35 inch tires (*heavy as anything), some lights and bed cover.
7. Type of Dyno used today was a DynoCom. All parameters were measured and they even had some device watching the flywheel to see what the actual RPM were vs. the vehicle RPM in the truck. (What you see under truck in front with wires hanging down).
8. My truck put down some base numbers in the morning around 370 Hp to the wheel. That was over 3 pulls. High pull was 374 and lower was 369. Torque numbers were right at 400 (397-404) Once the intake temps got to around 140 I saw it drop down to around 325 area and similar drop on the torque side. My optimal runs on stock were at 100-115 intake temp.
9. I live in FL and the temp today was high 70's low 80's. I use 93 gas but Mike mentioned that the calibration tool kept reverting to 87 and would eventually show 91 octane gas. Likely means once the computer calibrates for the 93 I am using I should see some better numbers. My drive home is 30+ minutes from the shop so I will see that on my ride home
Tuned - I have seen some HP numbers north of 420 and torque numbers north 447 (this was with intake temps around 140+).
I will give you guys the complete write up after all is done and road tested. I will likely come back after a few days and tweak anything that might need tweaking. He ran a few stock vs. tuned numbers at normal conditions (truck was hot now) and we saw about 80Hp gain and 90-100tq gains. He mentioned the goal when I got back was around 115hp gain and 115-120 torque gain once all is completed.