4 The Truck offers the Whipple Supercharger for the Ford Raptor 6.2L V8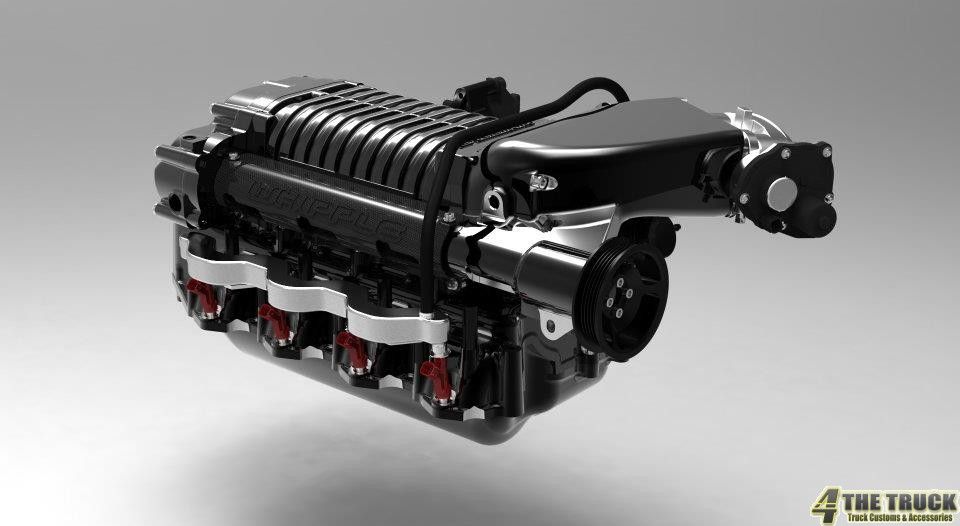 2010 - 2013 6.2L V8 Raptor Whipple Supercharger Kit - 4 The Truck
VEHICLE: 2011 6.2L Ford Raptor/6-speed
Boost PSI: 8.8psi
Average AF: 11.9:1
RPM Limit: Stock
Exhaust: Stock
Fuel: 91 octane (Chevron)
Temperature: 76.91° F
Barometric PSI: 29.87 In-Hg
Humidity: 21%
Hood: Factory, closed
SC RW SAE HP: 508
SC RW SAE TRQ: 492
Stock RW SAE HP: 335
Stock RW SAE TRQ: 366
WHIPPLE SUPERCHARGERS EXCLUSIVE FEATURES
Front entry W175ax (2.9 liters) Whipple twin-screw supercharger that significantly outflows competitions 2.3L roots-type systems
Integrated casting to minimize bolt on pieces, adapters, leaks and flow restrictions
Integrated Crusher ™ shaped inlet for maximum airflow capacity and minimal rotor cavitations
Integrated Crusher ™ 172mm oval inlet outflows smaller 90mm inlets such as other systems
Big Mouth Whipple Crusher ™ plastic air inlet for increased velocity and lower inlet temps vs. steel and aluminum tubes
Optional Crusher™ 172mm billet mono-blade throttle body
Integrated design allows for oversized intercooler core compared to other smaller intercooler cores giving Whipple lower air charge temps which allows more boost and timing to be run on pump gas
Massive air-to-water aluminum bar-plate intercooler offers more cooling than any other positive displacement system available
Whipple Superchargers massive oversized intercooled air-bypass system for industry leading reduction of burst knock and incredible fuel economy
Self-contained oversized oil system for dramatically reduced oil temps in even the most demanding conditions
Exclusive 3x5 rotor combo for significant increase in airflow under the curve than less efficient 4x6 rotor combo
Center discharge port for better cylinder to cylinder distribution then other twin-screws with cobbled together billet adapters and forward facing discharge
Discharge down design allows for less pressure loss which gives more power at lower boost levels
Top mount design allows for cooler operation then upside down SC's that conduct heat from engine and are trapped by runners and covers, causing hotter manifold temps and less power per pound of boost
More boost at the "hit" than any other twin-screw
Flat torque curve for incredible acceleration
Oversized heat exchanger for incredible intercooler water temps
Fits under factory hood with no modifications
No internal modifications required
Completed installation looks factory installed, not some cobbled together kit with multiple billet adapters
Kits come complete with all necessary parts and hardware for installation
Unique oil level sight glass for easy oil level and quality check, no dipstick to bind or misread
Plug and play wiring, no cutting
High flow air filter system, coolant reservoir is maintained
High flow fuel injectors (63lb/hr)
Proven 6-rib belt system with heavy duty spring loaded tensioner and adjustable idler system
Stainless steel jack-shaft with unique plastic cover for increased safety
OEM quick connect fittings for easy installation
Complete and tuner kits available
Available in wrinkle black, polish or any custom color
Easily upgradeable with bigger throttle bodies (172mm or twin 75mm)
Instant boost at the touch of the throttle
3 minute pulley changes
1 year warranty for all parts included
Optional 3/36, 5/60, and 5/100 warranty
WHIPPLE SUPERCHARGERS OPTIONAL PRODUCTS
172mm oval mono-blade billet throttle body
75mm twin-blade air inlet system
80 lb/hr fuel injectors
Custom colors
Oversized heat exchanger
Pulleys from 3.75" to 2.75" in every .125 incerment
NUMBERS ARE REAR WHEEL SAE POWER MEASURED ON A DYNO JET CHASSIS DYNO. DYNO RESULTS WILL VARY WITH DYNO'S, APPLICATIONS AND ATMOSPHERIC CONDITIONS
TO CONVERT RWHP TO ENGINE HORSEPOWER AND TORQUE
(RWHP/.80) = ENGINE HORSEPOWER AND TORQUE
EXAMPLE: (508/.80) = 635 HORSEPOWER
WHY WHIPPLE SUPERCHARGERS
While others "claim" to be leaders, the truth is simple; Whipple Superchargers are the true pioneers of twin-screw supercharging. For over 23 years, Whipple has led the industry with innovation after innovation. Whipple Superchargers brought the twin-screw supercharger to the US automotive market and has pioneered the "bolt-on" supercharger business. While others try to copy or follow, Whipple continues to develop new superchargers and new systems that not only look like a piece of art, they outperform the competition.
The revolutionary front feed 2.9 liter (175 cubic inch) twin screw SC sets a new standard to supercharging. While others cobble up one adapter after another, Whipple spent over two years developing every single component of this ground breaking supercharger system. The results speak for themselves, not only does it make the most bolt-on power of any supercharger system on the market, its fully upgradeable with camshafts, head work, throttle bodies and bigger air systems so you have the ability to go from mild to wild whenever you want.
FRONT INLET SC VS. REAR INLET SC
The Whipple front feed system is far superior to rear inlet based SC systems for a very simple reason, less inlet restrictions. While some companies make phony claims about how many bends they have, the fact is simple, the front entry systems do not require multiple 90deg bends or one sweeping 180deg bend before the SC inlet, which causes unequal rotor filling and lower volumetric efficiency. The Whipple front entry system requires 2 less bends then any rear entry SC. In fact, the one bend is only a slight 30deg bend! Others just show pictures of the air tube, but forget to mention the SC inlet which makes 2 90 deg bends, while also restricting plenum volume so they can clear the firewall.
WHIPPLE FUEL SYSTEM
The Whipple SC system comes with Siemens Deka 63 lb/hr fuel injectors that are rated up to 80psi of fuel pressure giving you the capacity for far greater power levels then standard systems.